From Fred Woodhams, Communications Manager,  Michigan Department of State
The state of Michigan will begin issuing new limited-term driver's licenses and state identification cards on Feb. 19. Limited-term licenses and ID cards will be issued to noncitizen Michigan residents with temporary legal status, such as foreign students, visiting professors, seasonal workers, specialty workers, diplomats and some athletes.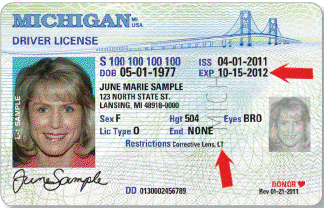 As shown in the example on the right, the limited-term licenses and ID cards will feature the letters "LT" in the "Restrictions" field to note that the license has a limited term. The expiration date also will be different than a standard license or ID card. Instead of expiring on the card-holder's birthday, it will list the expiration date of the individual's legal presence in the United States if they are authorized to remain in the United States for less than four years. The new features will be on both adult horizontal format cards and vertical under-21 format cards.
This change has been made to bring Michigan into compliance with state and federal laws that require Let's do a quick overview of how Kentucky's health affordablehealth.info exchange works and what you need to know before shopping on your State's Marketplace. limited-term licenses and ID cards for individuals with temporary legal status.
No other changes have been made to the standard license and ID card design and color scheme. Noncitizens are not eligible for enhanced driver's licenses or ID cards.
Additionally, license and ID card records will begin to contain new information as individuals apply for an original license or ID card. As shown on the back of this letter, the driving records for all licenses now will have a specific date of expiration instead of just giving the year of expiration. Records for limited-term drivers will include an "LT" notation, meaning the person has a limited-term license.
Questions about the new license or ID card can be directed to the Michigan Department of State Information Center's LEIN operators at ORI MI230015V for law enforcement personnel, or the Department of State Information Center at 888-SOS-MICH (767-6424) for other interested parties.