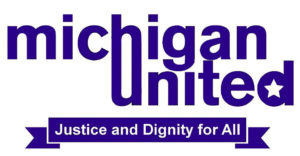 THE PEOPLE'S GOVERNOR FORUM:
TRANSFORMING MICHIGAN'S FUTURE IS ON 
SATURDAY, MARCH 3RD.
DON'T MISS OUT! REGISTER NOW!
Friends –
We are excited to build grassroots people power with you in 2018 around The People's Governor Forum: Transforming Michigan's Future on Saturday, March 3 at 12pm! It will he held at the Historic Little Rock Baptist Church – 9000 Woodward Ave. Detroit, MI 48202.
This forum is being co-sponsored by over 40 organizations who are joining together to demand that candidates for governor address key issues for our communities. We believe our state needs a bold agenda that will tackle the root causes of poverty, inequality, and racism head on. We'll be asking candidates to outline their plans for criminal justice reform, immigrants rights, affordable health care & elder care, child care, and environmental justice.
Register here – http://bit.ly/2018govforum – space is limited!
Organizations Co-Sponsoring the Event
Action of Greater Lansing
African Bureau for Immigration Services and Assistance (ABISA)
Arab American Civil Rights League
Asian & Pacific Islander American Vote – Michigan
Birmingham Temple Social Justice Committee
Board of Justice, Michigan Conference, United Methodist Church
Central Michigan Action, Mt Pleasant
Central United Methodist Church, Detroit
Coalition to Oppose the Expansion of US Ecology
Community Economic Development Association of MI (CEDAM)
Coalition of Labor Union Women (CLUW)
Council of Baptist Pastors of Detroit & Vicinity
Detroit Action Commonwealth
Emgage
Fems for Change
First United Methodist Church of Ferndale
Greater Mt. Tabor Missionary Baptist Church
Interfaith Council for Peace & Justice
Latin Americans for Social and Economic Development (LA SED)
MADE Institute, Flint
Metropolitan AME Zion Church, Detroit
Michigan Muslim Community Council
Michigan Nurses Association
Michigan Regional Council of Carpenters & Millwrights
Michigan Unitarian Universalist Social Justice Network
Michigan United
Nation Outside
National Network for Arab American Communities
Pastor & Associates Law, Troy
Peace and Social Concerns Committee, Detroit Friends Meeting
Pleasant Grove Baptist Church, Detroit
SEIU Healthcare Michigan
Sierra Club Michigan Environmental Justice Action Group
Trinity Lutheran Church, Richmond
UAW Local 600, Dearborn
Universalist Unitarian Church of Farmington
Washtenaw Interfaith Coalition for Immigrant Rights (WICIR)
Women's March Michigan
Women of Michigan Action Network, Midland
YWCA Kalamazoo
In solidarity,
The Michigan United Team
Copyright (C) YEAR COMPANY All rights reserved.
Michigan United
4405 Wesson St.
Detroit MI 48210 United States